A hole day in Port Aventura
You still don't know Port Aventura?
I will explain 3 good reasons why you shouldn't miss going to PortAventura:
PortAventura is one of the biggest amusement parks in Europe with more than 3,000,000 visitors a year that go on the 30 rides, 15 shows and over 70 restaurants every day. Up until only 1 year ago the biggest attraction of PortAventura was the great Dragon Khan, a giant roller coaster that gets up to 110 Km/hour with 8 loops. But PortAventura reinvents itself year after year and in 2012 they opened a ride,which is now considered the largest and highest roller coaster in Europe called Shambhala "Expedition to the Himalayas".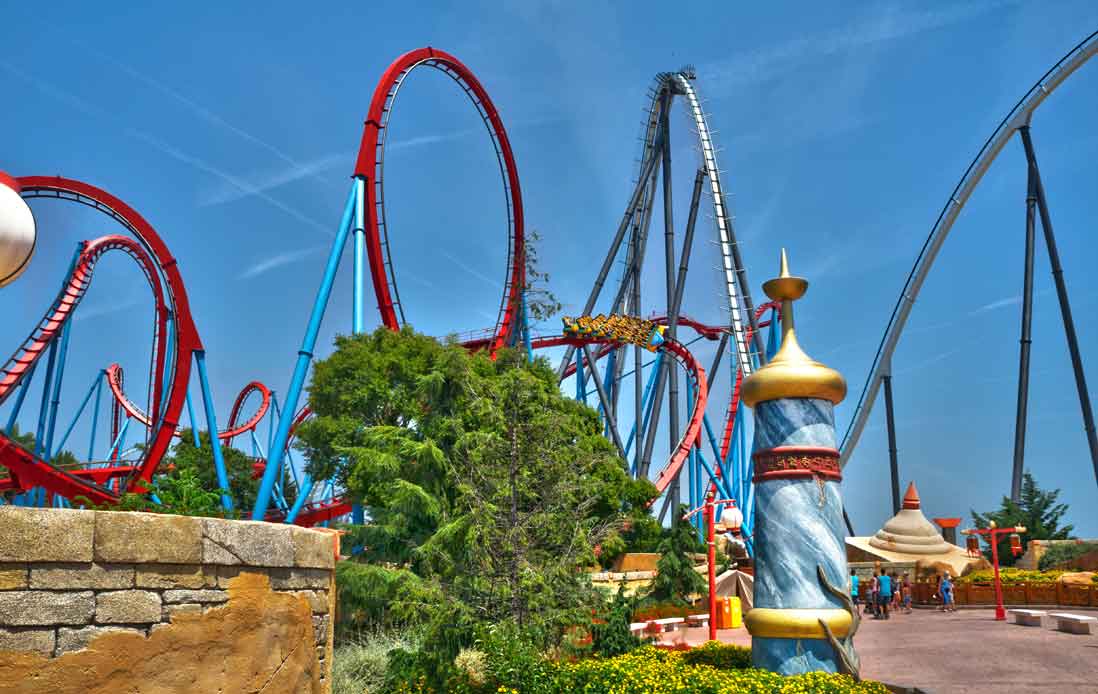 As if that were nothing, in 2013 PortAventura starts a new experience with the Cirque du Soleil offering a daily show full of acrobatics and fantasy for 2400 people named KOOZA. This show can only be seen in this park in Spain.You can visit PortAventura in 1 day but if you have time it's better to purchase a 2 day pass to thoroughly enjoy the experience calmly as it has 6 thematic areas such as China, Mexico, Polynesia, Sesame adventure, the Mediterranean and the Far West.
We started our day at PortAventura through the Mediterranean; this is the Park welcome area, where tickets are purchased to access the grounds. Upon arrival you can already note the surprising realism and quality of the Park; houses, streets, marinas, restaurants… remind you of everything you would find in a typical Mediterranean village. The main attraction of the Mediterranean is Furius Baco, a spectacular roller coaster that was the fastest in Europe until 2009. The feature that made this ride so unique is that the rider's legs and feet hang freely in the air; atotal adrenaline rush.
Every summer evening the Fiesta Aventura is held in the Mediterrenean, a wonderful light and fireworks show that closes thePark each night.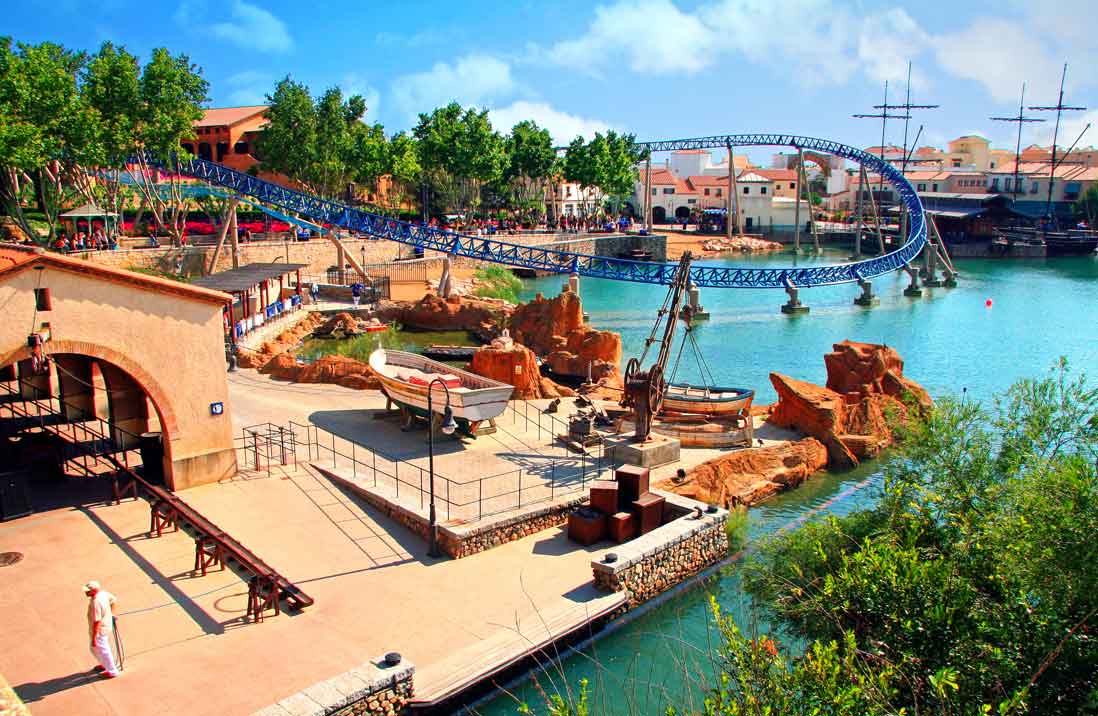 As we keep walking we enter into Polynesia. In the blink of an eye we are surrounded by lush vegetation, in a real jungle of the Polynesianislands, full of palm trees, bamboo and tropical plants, a breathtaking landscape. Major attractions here are Kon Tiki Wave, a large canoe that sways simulating a strong tropical storm for both the young and older. Sea Odissea is another attraction for all ages where there are 3D movies and finally the great Tutuki Splash, representing a large volcano where you travel on a raft through the jungle between torrents and waterfalls.Aves del paraiso, Pareos Bora Bora y Noches de Fuego en Tahití.
I especially liked 2 shows, Aloha Tahiti, depicting dances of these distant lands, surrounded by jungle, waterfalls and white sand. The Birds of paradise show is also one of my favorites, with tropical birds such as macaws, parrots, cockatoos that sing, dance and make the entire audience laugh.
After Polynesia and since 2011 we find a new thematic area, Sesame Adventure, which is specially designed for children. At Sesame adventure we enter into a magical world full of color and fantasy with a large central tree inhabited by the characters of Sesame Street.If you go with children, you cannot miss this area since everything here has really been thought of for them. There is a kiddie roller coaster called Tami, Tami, also Magic fish (aquatic motos), Cocopiloto o Loco Loco Tiki. They won't want to leave the place.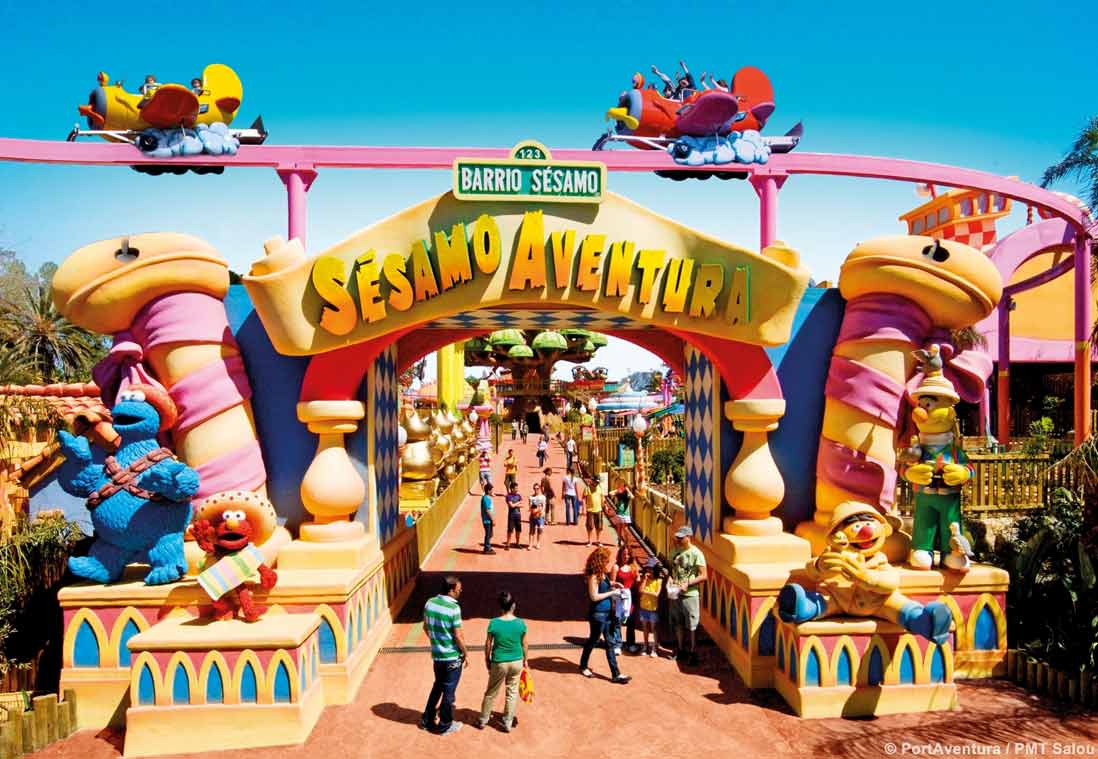 China is our next destiny and for me the heart and soul of PortAventura, with the biggest and most powerful rides of the Park, not suitable for the faint-hearted
This entire zone is set in Imperial China and reproduces in detail the grandeur of the Asian giant with the Ximpag farm and the Forbidden City separated by the Great Wall of China. Here we will find the omnipresent Dragon Khan, the great attraction of PortAventura and the highest roller coaster in Europe, Shambalha.
You will find the great imperial theatre in China, which seats 1140 people where you can relax and watch wonderful shows filled with music and color. For the Imperial Theatre shows, I recommend you get to the door of the show about 15-20 minutes before the performance begins as it is one with the largest influx of people. If you like Chinese food, this is a good area to nibble and eat something to charge your batteries. You have the Canton restaurant where you can eat authentic Chinese food like: woks, skewers and dumplings and even eat hamburgers and french fries in the restaurant Dragana.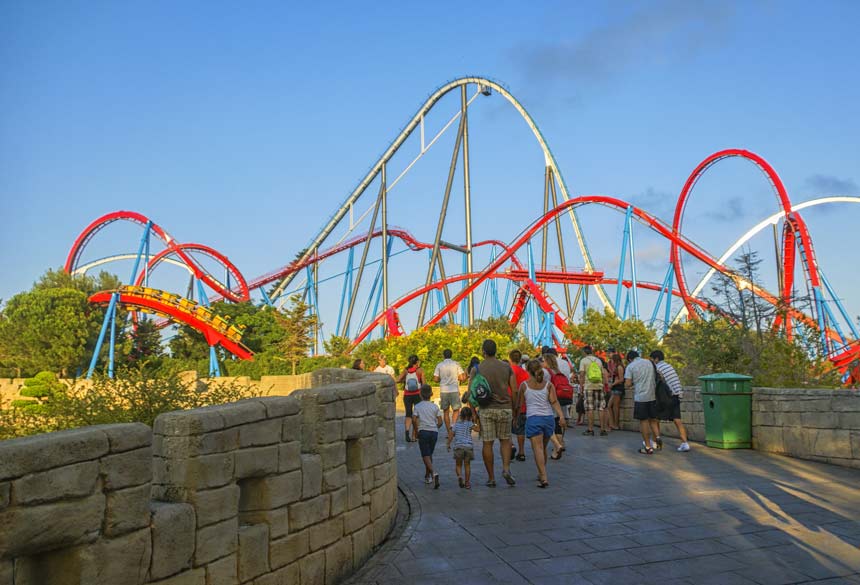 We continue our tour through the Park and we come to Mexico wherethe temples and great Mayan pyramid immediately draw our attention. I get the feeling that I am traveling around the world, from the Mediterranean to Polynesia, we continue towards China and then Mexico… it's so much fun.
Here we go to Central America, with their canteens, arid lands, and pyramids. The star attraction in this area is the Huracan Condor (Condor Hurricane), a tower of 100 meters high that gets up to 110 km/h, not suitable for people with neck or heart problems. Do not miss also the mine train ride "El diablo" (the devil), a roller coaster train for almost everyone, with curves and slopes at high speed.
Lastly, we get to the FartWest with heavy feet, the final area of the route but no less spectacular. Here they recreate the legendary Far West, the old American West, arid landscape, but with lots of water rides.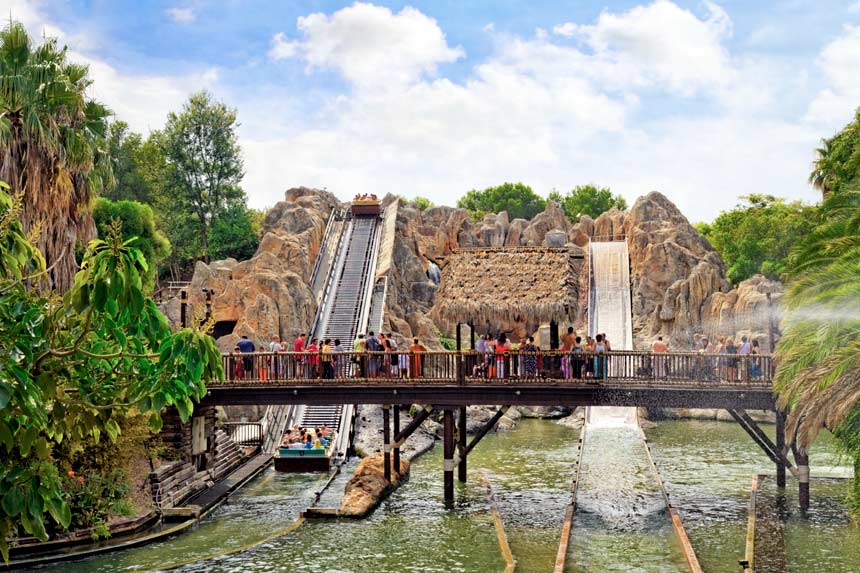 Here we can enjoy the Silver River Flume, where you need a raincoat to go down the rapids inside of tree trunk. I also recommend the Grand Canyon rapids, where you go down rivers and waterfalls mounted in circular boats that spin around and where you have to be careful because other visitors with water hoses can spray you from above; very fun and refreshing, ideal for summer.
For the more daring, I recommend the Stampida, a fabulous roller coaster for nearly all ages experience where you will explore the West mounted in a few wood wagons which intersect at high speed. And another roller coaster in this area, but more gentle and for the entire family is Tomahawk.
PortAvenura is no doubt a great amusement park that leaves nobody indifferent, a magical day for children and adults. Following four tips and trying to avoid the most crowded days you can spend an unforgettable day.
I hope you enjoy it!!!!