Aquum spa – a relaxing vacation in La Pineda
I have had a pleasant relaxing morning today in the Aquum Spa Club and I will explain my experience while the relaxing feeling persists, a perfect day for my vacation.   The Spa is very easy to find, located in theEstival Park complex on the beach of la Pineda, in Vilaseca, in front of the Aquoopoliswater park.
When you arrive they explain that you have two options to enjoy, the first is access only to the Spa, adult price is 22€ and for children from 5 to 11 years 19€ and the second option is to the Spa Club, which is a bit more expensive, 30€ (only children after 12 years old). This last option allows you to go to the top floor where the relaxing areas are, which in my opinion are worth it. Don't forget to take your swimming suit, a towel and a swimming cap, if you don't have a cap you'll have to pay 3€ for one.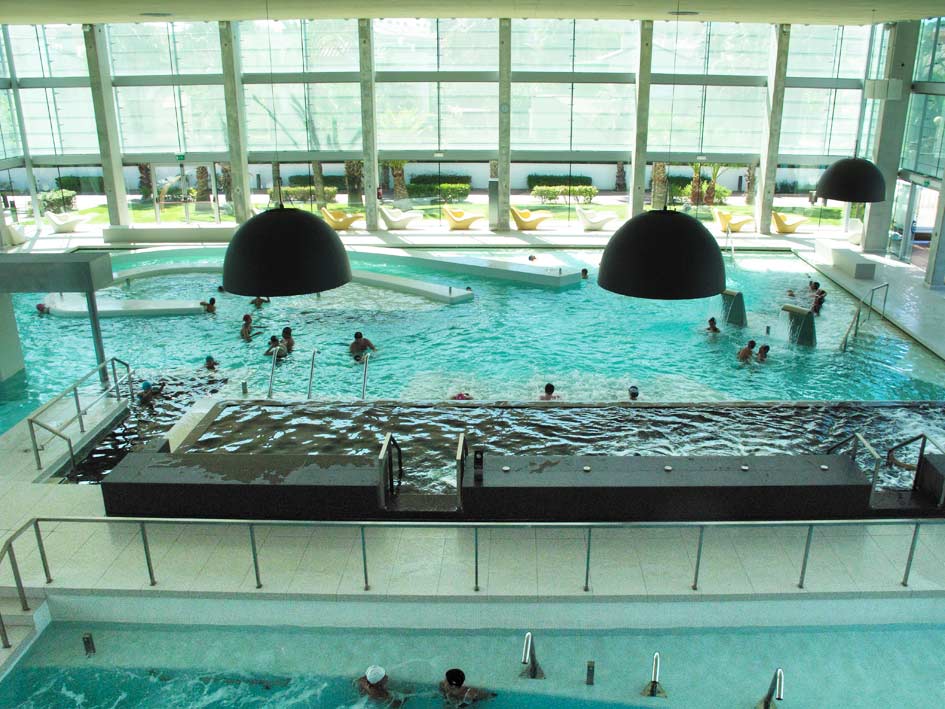 Aquum Spa is inspired by the sea and the oceans as sources of well-being. Right when you enter you will find a large swimming pool very originally divided into different areas, there are 50 different sensations, each one of them has the name of a place of our planet and its waters are a representation of them by temperature, currents… some of them are the Atlantic Ocean, the Costa da Morte, there is a hydrodynamic river that represents the English Channel, the Pacific Ocean, the islands of Martinique, the Black Sea, the Canary Islands, the Hainan Cascades, and many more places that allow us to do a mini tour of the waters of the world.
Inside but outside the pool is the Iceland area, which is the thermal zone with sauna Hekla Volcano, steam baths Great Geyser, a source of ice Vatmojodul Glacier and some special showers with a bucket full of ice to throw over yourself (only suitable for the brave). slide11 The spa's main pool extends outdoors at 30 °C, there is also an outdoor jacuzzi and a children's pool with an area with lounge chairs and double beds where you can relax in the sun after having enjoyed the water.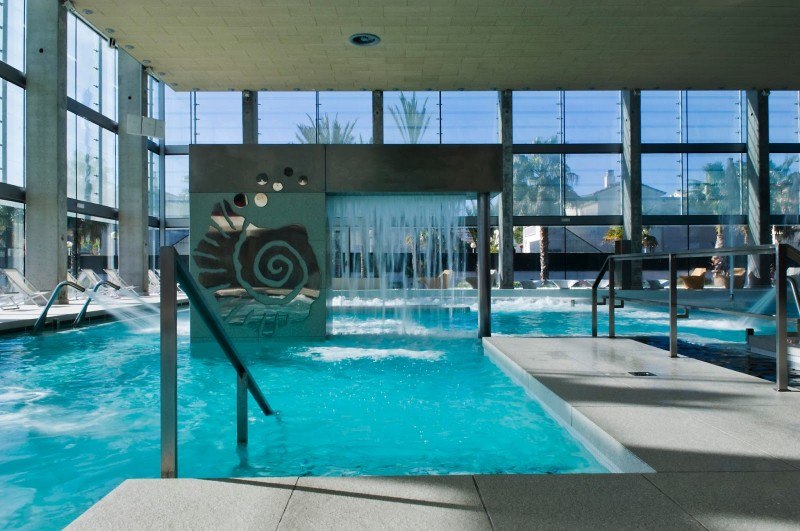 On the first floor you will find the Club area. If you have paid access to it, towels are included and are given to you at the entrance.  Upstairs you will find contrasting swimming pools, a hot one at 42 °C and a cold one at 18 °C. There is also thermal area with great showers over steel beds that simulate rain, really pleasant. But apart from these, the area is relaxing, a place to have a tea, another area with infrared sunbeds, a multisensory room (to me the best) in which you enter and can barely see anything because of dim lighting, which you adapt to little by little. You also will begin to enjoy the Chromotherapy and music therapy. You only need to find one of the heated beds and lie down to relax.
This is the area specialized in beauty treatments, well-being and health. If you are looking for a place to take care of yourself and leave feeling new, you can find it here. There are plenty of beauty treatments, therapeutic or relaxation massages, massages with hot stones, Ayurveda massages, Fiji massages, massages with sea shells… they all sound wonderful.
They also have beauty and hairdressing area.
Next time I won't miss one of those essential oils massages to complete the day. The thing is don't make plans for later because you will need a few hours before you return to being active!